Hold your next event on our Fairgrounds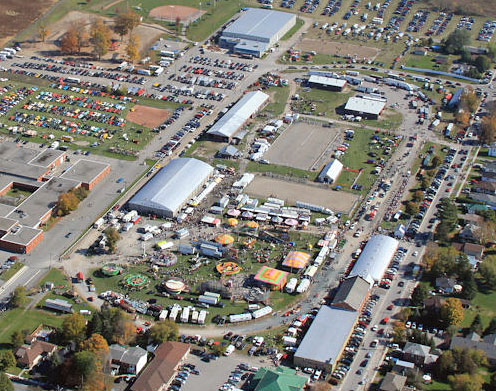 Exhibits, competitions, sales, performances - just about any event can be accommodated by the facilities of our spacious fairgrounds. Well-maintained and fully serviced, here are some of our main amenities:
Grounds are fenced, admission gates/booths available
Several exhibition buildings and barns of various sizes
Buildings serviced by hydro and water outlets
Five washroom locations with hot water, some with showers and baby change station, wheelchair accessible
Hydro and water outlets throughout the site, can accommodate camping
Outdoor stage
Bleachers
Fenced rings
Oval track
Parking area
Coliseum is 75' x 185' (size of open space inside building)
Horse barn - 75' x 80' (cement floor)
Cattle barn is 60' x 260' (dirt floor)
Dump station
Large cattle wash stand with very adequate water supply
Easily accessible from Highway 7 (see map page)
Please contact us to discuss the package that best suits your event. We are happy to assist you with any special requirements not shown on these pages.