Crops and Home Arts Exhibits
No country fair is complete without a proud display of the hard work and talent that goes into running home and farm. The bushels of grain, the best of the gourd crop, and the hand-made woolly mittens are ready to meet the judges. Can you pick out the winner?
Exhibitors: For full details on entry rules, classes, prize money and registering please visit our Fair Book (available on our home page or by using the link on the left side of this page.)
Art and Photography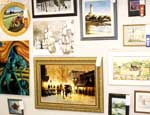 Paintings in many media and photographs in both film and digital formats are displayed in the Exhibition Building. Photographs are judged by impact & style, composition, presentation, and lighting. Categories range from children to sports and on to landscapes and farm animals.
Needlecraft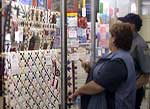 Sewn, knitted and crocheted clothing, quilts, afghans, fine stitchery, Christmas items, family wear, and baby items all have a place in this competition. Items are judged on general appearance & design, workmanship, and materials used.
Baked and Bottled Goods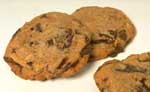 The "Domestic Science" category offers up some delicious treats for the judges as they ponder the general appearance, internal appearance, and the flavor & aroma of each entry. The class includes breads, muffins, quick breads, pies and tarts, cookies, brownies and fudge. Bottled goods are judged on general appearance, texture, and flavour and include fruit, berries, jams, pickles, chutney and even the "most unusual preserve".
Hobbies, Crafts and Woodworking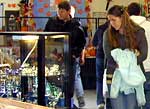 Fine woodworking projects include toys, ornaments, storage containers, clocks and many other household and artistic objects.
Other Home Arts include decorative painting/ folk art on various objects, handmade stationery, scrapbooking, jewellery, stained glass, wreaths, candles, centrepieces and the list goes on!
Garden and Field Crop Competitions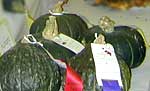 The gardeners among us will appreciate this. See the best of this year's crop, from beets to turnips, including of course the largest pumpkin. You're not expected to tag along with the judges to inspect the fields, but samples of the grains and other crops will be exhibited.
Horticulture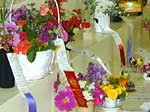 Flowers, flowers and more flowers. Check out the colourful displays in this category of potted plants, cut flowers, and some very creative arrangements ranging from themes such as "Wild Beauty" and "First Frost" to the traditional Christmas and harvest arrangements.